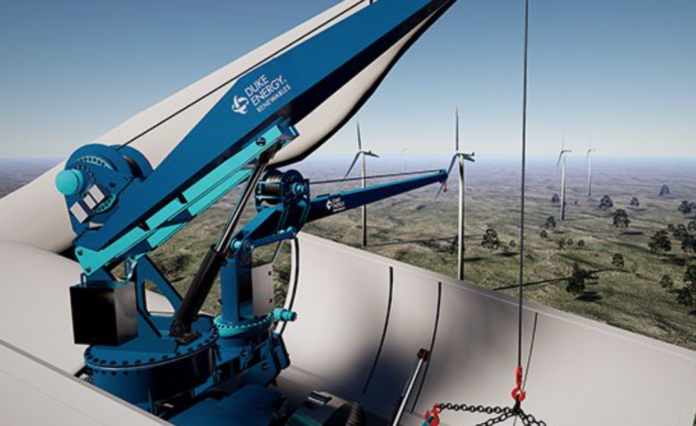 Duke Energy Renewables, an operator and maintenance provider for third-party wind and solar photovoltaic (PV) facilities, has streamlined wind turbine repair and maintenance by offering a first-of-its-kind service option to wind energy producers around the U.S.
Traditional wind turbine maintenance requires many cranes, a massive construction zone and precise scheduling of multiple contractors and equipment. The alignment of multiple resources inserts an element of risk to completing wind turbine projects on time and on budget. Duke Energy Renewables' alternative lifting service makes that process more efficient.
"Streamlining the wind turbine maintenance process to one call, one truck, one team and in as little as one day is a new service we're thrilled to offer our commercial wind energy customers," says Jeff Wehner, vice president of Duke Energy Renewables.
"U.S. wind power has more than tripled over the past decade. As wind energy resources continue to grow, utilizing more efficient maintenance services will help to optimize wind energy resources so that they produce the greatest amount of renewable energy possible," he adds.
The service is the first U.S. commercial offering that leverages the GenHook LT all-in-one crane package from KenzFigee – a supplier and service provider of tailor-made cranes and equipment for the marine, offshore and wind energy industries.
Some key benefits now available to commercial wind site operators who choose an alternative lifting solution include:
Easy transport – Mobilization requires just a standard 40-foot shipping container, eliminating the need for oversized or overweight road permits
Quick setup – Mobile cranes often require an entire day for setup before work can begin and another day for equipment removal
Safety and precision – Engineered to eliminate ground stability issues and operate in wind speeds up to about 40 mph, the service enables wind turbine repair and replacement up to 100 meters in the air with fewer unexpected delays
Duke Energy Renewables services and replaces major components in wind turbines in excess of 100 meters tall. The massive turbine blades can sweep a vertical airspace of about an acre and the blades contribute to a total wind turbine height exceeding 400 feet.
The Duke Energy Renewables service team is ISO 9001:2015 certified and boasts an industry-leading safety record and offers experienced technicians, specialized tooling, dedicated project management, scheduling, crane management and lift planning.
Original source: North American Wind Power